PREVENTION AND POST TREATMENT
IT IS INCREASINGLY DIFFICULT TO ESCAPE CANCER AND PREVENTION IS THE BEST SOLUTION
Live WITHOUT FEAR and Cancer free
IT IS INCREASINGLY DIFFICULT TO ESCAPE CANCER AND PREVENTION IS THE BEST SOLUTION
They have trusted Graviola Prozono
From Spain, USA, Chile, Colombia, Argentina. ... we get photos of those who have tried and trusted Graviola Prozono.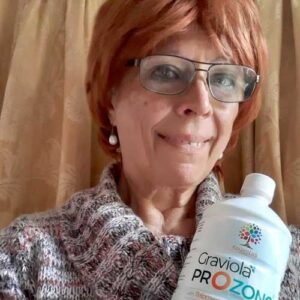 Do you want to tell us about your experience with Graviola Prozono ?.
Send us your photo with our product and tell us about your experience at
info@graviolaprozono.com
Graviola Prozono is a Natural Supplement to Prevent Cancer
Produced by Kaizen Lab Europe. Based on studies developed by 2 Nobel Prizes in Medicine and several universities.
You spend the day worried that everything seems to cause cancer. In the news you hear that what you eat is carcinogenic, the mobile and antennas can cause tumors. Plastic bottles, the microwave. You can't even sunbathe out of fear. At the same time you see how your family and people close to you are diagnosed with cancer and this makes you live in fear.
If you want to know the literature and scientific research on which the Graviola Prozone is based. Download the PDF with all the information that supports our product.
¿HOW AND WHY?
Do you know we all have cancer cells in our bodies?
Yes, according to CANCER RESEARCH UK even newborns. You know that Graviola has an active principle that eliminates cancer cells, thus preventing the proliferation of tumours.
Do you know why a cell turns cancerous?
A cell that is capable of becoming cancerous by errors in its DNA code and by cellular aging. This can be prevented with an enzyme called telomerase. According to the discovery of the Nobel Laureate in Medicine Elizabeth H. Blackburn.
Do you know what all tumours have in common?
Lack of oxygen in the cell, was one of the contributions of another Nobel Prize for Medicine, Otto Warburg.So maintaining a well oxygenated cellular environment can keep you away from cancer. We're going to get this with Ozone.
Now you have the chance to PROTECT YOURSELF FROM CANCER and live in peace with a product.
THE EXPERTS ARE TELLING YOU...
"Depriving a cell of oxygen for 48 hours can make it cancerous."That's why Kayzen's team of biologists decided to add Ozone to the Graviola.
"Telomerase influences 95% of all human tumors."
"Acetogenins present in Graviola can selectively inhibit the growth of tumour cells resistant to adriamycin (chemotherapeutic drug) ."
... And our clients
Sergio's Family Testimony
Sergio's family tell us about how Graviola helped grandmother overcome cancer
Testimony of Carmen Colomé
Testimony of Carmen Colomé about when a lump was detected in her chest and how Graviola helped her with her disease.
Ximo tells us how Graviola Prozono helped him in his fight against cancer along with chemotherapy.
RESEARCH
"The consumption of the extract of Annona muricata L. (Graviola) with the appropriate pharmaceutical form and dosage, may improve chronic pain, diabetes and cancer."
WHO IS IT FOR?
GRAVIOLA PROZONO IS FOR YOU:
Julia
Julia "I STARTED TAKING GP FOR PREVENTION. I WAS INFORMING MYSELF, REVIEWING STUDIES AND WHEN I SAW ON TELEVISION A DOCTOR TALKING ABOUT GRAVIOLA I DECIDED TO BUY FOR MYSELF AND FOR MY BROTHERS."
GRAVIOLA PROZO IS ALSO FOR YOU … IF AS JULIA, YOU ARE A YOUNG PERSON WHO HAS SEEN HOW CANCER TOOK 3 RELATIVES IN A SHORT TIME.
GRAVIOLA PROZONO WAS ALSO IN THE HARD TIMES OF TWO OF OUR CLIENTS
Beli and Paco share their stories with us
Beli tells us how she did not let cirrhosis prevent her from living her life.
Paco tells us about his experience and how Graviola Prozono helped him fight a tumor
HOW DOES THE PRODUCT TRANSFORM YOUR LIFE FOR THE BETTER?
WHEN WE TAKE GRAVIOLA PROZONO WE ARE NOT ONLY PROTECTING OUR CELLS FROM CANCER, WE ARE ALSO PROTECTING OUR MIND:
WHAT SETS US APART FROM OTHERS?
IS THE ONLY GRAVIOLA-BASED SUPPLEMENT
CERTIFIED BY THE HUMAN BIOMEDICAL RESEARCH CENTER.
HOW DOES IT WORK?
GRAVIOLA PROZONO IS A LIQUID FORMULA AND SUPER CONCENTRATED SO THAT A SINGLE INTAKE A DAY IS ENOUGH FOR THAT:
GRAVIOLA PROZONO IS FOR YOU WHO WANT TO KEEP CANCER OUT OF YOUR LIFE AND LIVE WITHOUT FEAR, EVEN IF YOU HAVE A FAMILY HISTORY.
GRAVIOLA PROZONO IS A PRODUCT DEVELOPED BY KAYZEN LAB EUROPE.
A LABORATORY THAT HAS BROUGHT TOGETHER SPECIALISTS OF THE HIGHEST LEVEL TO DEVELOP THIS FORMULA, ALWAYS FOLLOWING THE HIGHEST SCIENTIFIC STANDARDS OF OUR CENTURY
GRAVIOLA'S ANTI-CANCER PROPERTIES WERE DISCOVERED BY J. MACLAGHLIN AND HIS RESEARCH TEAM AT THE UNIVERSITY OF PRUDEU.
A LITTLE BIT OF HISTORY
DID YOU KNOW THAT IN 1970 an American, multi-million dollar corporation began the search for a cure for cancer and its research focused on graviola.
At the first evidence, the company spent huge sums of money to test the anti-cancer properties of the tree and was amazed at the results. It looked like it was going to become the source of MILLIONARY INCOME.
But they encountered an insurmountable obstacle: The graviola tree is completely natural, which is why it is not patentable under federal law.
The company then opted to try to synthesize two of the ingredients of the potent anticarcinogen from the graviola tree. If they had been able to isolate them, they would be able to patent it and earn billions of dollars. But they found an insurmountable wall.
The original is simply impossible to reproduce. There was no way for this company to protect itself commercially if it disclosed the results of its research without first obtaining an exclusive patent.
As that dream has evaporated, the company filed the project decided to refrain from publishing the results of its research.
Luckily, a scientist who participated in research, whose professional ethics would not allow him to cohonest such a decision, decided to risk contacting a firm dedicated to studying plants in the Amazon and the miracle was done.
GRAVIOLA PROZONO
THIS PRODUCT IS BORN FROM THE ANGUISH THAT CAUSED ME TO LOSE FRIENDS AND FAMILY TO CANCER. NOT ONLY THE LOSS, IT WAS ALSO TERRIFYING TO SEE THE DISEASE SO CLOSE AND I COULDN'T STOP THINKING THE NEXT ONE COULD BE ME.
FROM THERE WE BEGAN TO ASSEMBLE A TEAM OF EXPERTS WHO HAD THE SAME CONCERNS. WE KNEW WE COULDN'T STAND BY AND HOPE FOR LUCK AND FROM THERE WE DECIDED TO DEVELOP GRAVIOLA PROZONO.
GRAVIOLA PROZONO IS CREATED BY THE NEED TO PREVENT A DISEASE LIKE CANCER. UNTIL NOW WE ONLY WORK TO END THE DISEASE ONCE THE PATIENT IS ALREADY AFFECTED. AND IN HEALTH WE KNOW THAT ANTICIPATION IS MORE THAN HALF A VICTORY.
THERE ARE ALREADY SOME GRAVIOLA SUPPLEMENTS, BUT NONE ENHANCED WITH OZONE, OR TELOMERASE THAT ARE ACTIVE INGREDIENTS THAT HAVE ALREADY PROVEN THEIR EFFECTIVENESS IN THE FIGHT AGAINST CANCER
Specialized menu for

cancer patients
For the purchase of

Graviola Prozono
we give you
a Meal Planer specialising in cancer patients.
NUTRITION IS ONE OF THE MAIN PILLARS OF CANCER PREVENTION. THE ANTI-CANCER DIET IS AN AUTHENTIC REVOLUTION IN THE WORLD OF NUTRITION. IS DEVELOPED BY THE SLIMMING TEAM 3.0 AND DESIGNED TO BE EASY TO CARRY.
He hard choice.
You can buy:
The best and most economic option.
You can buy::
HOW TO BUY?
Special cases
In case of urgency or need more units contact us in this form and we will study your case.
If you have any questions or proposals to ask us, fill out the form or contact us by email or phone,

We will be happy to assist you
Different people who share the same story and who have faced the disease with the help of Graviola Porozono.